Castello di Grotti near Siena, Tuscany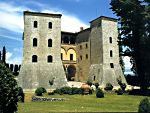 Villa, apartments and farmhouses in Tuscany, 10 minutes drive South of Siena, in the park of Castello di Grotti. Accommodations range from apartments for two persons to an elegantly decorated villa of the XVIII century for 12. The location is ideal for relaxing in the unspoilt countyside of the 'crete' region South of Siena and for visiting the celebrated art centers of Central Tuscany (Montepulciano, Montalcino, Pienza, San Gimignano,Volterra amongst them). While staying at the Castello di Grotti Estate one can also spend a day in Florence which is only 85 kms away, or take a tour of the Chianti area and its well-known wine cellars.
Villa Ballati, Castello di Grotti

Villa Ballati in the park is a two-storey 18th century villa, overlooking the rolling hills that surround Siena. The villa, tucked away in the park of the Castello di Grotti, suited for groups of 10 or 12 people, has plenty of space for open air living including a shady lown. Location ideal for summer holidays and fall or winter stays (central heating).

Farmhouse in the park

In our organic farm near Siena vacation rentals in a XVIII century villa, apartments or farmhouses in Grotti, a small hilltop village. Accommodations for two to eight people in our tuscan "poderi". From Grotti easy day excursion to the near-bay town: San Galgano, Pienza, Montepulciano, San Gimignano.

Extravirgin olive oil

Extravirgin olive oil produced on the Castello di Grotti estate in Tuscany on the hills south of Siena. We harvest our olive tree grove by hand in late autumn. Within the next 24 hours the olive are cold pressed to ensure a high quality extra-virgin olive oil that we bottle within the farm premises. We sell on the farm or send our olive oil to your address.

Farmhouse in Certino, Grotti

Certino in Grotti, a hilltop village in Tuscany, is a two story traditional farmhouse just 12 km from Siena, near the Castello di Grotti estate, on the way to Bagnaia. Certino farmhouse is divided into 4 apartments with accommodations for 2 or 4 guests. Wonderful views of Siena, Chianti and, in the distance, Pienza and Montepulciano.

Farmhouse in Orgia

Casa del Fabbro located in the medieval village of Orgia - Sovicille, 15 minutes south of Siena in Tuscany, is a farmhouse with enclosed garden with barbeque grill. The two story farmhouse has a dining room at ground floore, living room with fireplace, 3 bedrooms and 2 bathrooms, parking for the guests.

Receptions at Grotti Castle

Special events and receptions. On the Castello di Grotti estate we have several locations that are perfect for receptions, seminars, workshops or special events, indoor and out. Just out of the gate of the park a large parking area for the guests and the ancient gothic chapell voted to Beato Franco da Grotti.